Wicklow:  Irish Golf Heaven, Home of the 2016 Curtis Cup
By Pat Ruddy – May 2016
The 39th staging of the biennial Curtis Cup match between the leading lady amateur golfers of the U.S.A. and those of Great Britain & Ireland turns the golfing world's spotlight onto County Wicklow once more.
The match is to be played June 10-12, 2016 at the sumptuous Dun Laoghaire Golf Club on the slopes above Enniskerry and it promises to be a spectacular affair with the venerable club and the Ladies' Golf Union very determined to exceed all previous meetings in the matters of great golf and spectacular hospitality and celebration.
Great golf is, of course, just par for the course in County Wicklow as it has staged many great championships starting with the Irish Open and other pre-European Tour events at Woodbrook just north of Bray. Road blocks were the norm going to and coming from that lovely club on the big days!
In more recent times the Irish Open has been played four times at Druids Glen, the Irish Seniors Open has been played at Tulfarris, the Irish Professional Championship has been played at Druids Heath, Powerscourt and The European Club.
Worldclass Irish Golf Destination
This is quite a worldclass region for golf. It is blessed with great courses and links, with a welcoming disposition towards visiting golfers and with an ease of access which is the envy of many other fine centers of international quality golf.
Land at Dublin and take a motorway from just outside the airport gates and be teeing-up on a great golf course almost as quickly as you can change into spikes.
One thing that many great golf courses have in common, apart from great golf, is the fact that they are very difficult to find and to get to. Worse, they can be quite isolated both from each other and from after golf entertainments.
Land at Edinburgh and travel forever to Dornoch…. then where to go? Land in Seatlle and drive until you are exhausted to Bandon …. then what to do? Land in Sydney and take, after the best part of eighteen hours flying to get there, another flight to Tasmania…and you are where you are!
How refreshing, by comparison, to land at Dublin and take a motorway from just outside the airport gates and be teeing-up on a great golf course almost as quickly as you can change into spikes.
Four of the World's Top-100 Golf Courses are within easy reach via the magnificent new EuroRoute 1 Motorway which travels up-and-down the east coast of Ireland and sweeps in a graceful arc around the capital city of Dublin.   This is a candidate for an award as the most important golf motorway in the world.
Just consider that Royal Portrush is about a two hour drive north; the world famed fairways of Royal County Down and of The European Club are about 90-minutes north and south respectively; and you can practically rake the bunkers at mighty Portmarnock if you reach out as your
plane approaches the airport!
These are four of the acknowledged masterpieces of links golf and to make things even better they have a great supporting cast of other fine seaside links and lovely parkland gems. This gives golfers visiting the area a wide range of styles and prices upon which to base a superb golfing vacation while enjoying the history, the culture and the craic (i.e. the fun and games) of Dublin city and of adjoining County Wicklow.
Stunning Golf in Stunning Landscape
Wicklow is aptly named The Garden of Ireland and it truly lives up to that title as it provides a wonderland of coastline, mountain, meandering rivers and rich meadows (the county's name is a translation from the Old Norse language meaning Viking's Meadow). The landscape is one of the most pristine in Europe having been protected by strict planning laws which prevent the building of rural sprawl and hillside and hilltop monstrosities. What one sees is a largely unspoiled ancient countryside and a bedazzling and varied profusion of luxuriant flora.
What a great place to celebrate the game of golf. What a great place for man to share in the joys of unspoiled nature while swinging a club to smite a wee ball into a series of holes. All the joys of long gone generations who swung clubs to fell something nice for dinner or, perhaps, to terminate a foe!
Wonderland of coastline, mountain, meandering rivers and rich meadows
There are twenty-six golf courses in County Wicklow and fifty-six in neighbouring County Dublin. They provide great golfing experiences for players of all standards and, better still, every single one of them welcomes the visiting golfer. That is the Irish way …. you are welcome…. just make the call!
Links golf is, of course, the original of the species. Golf started on hungry linksland, i.e. the sand deposits which link the beaches to the inland soils, because the ball could be found in the light fescue grasses even in Summer when it would be lost without trace in the lush grasses inland. The land forms and the tumult caused by the conjunction of land, air and ocean make for unforgettable thrills and memories for the wandering golfer.
Golf through Ireland's Ancient East
Ireland's east coast is blessed with marvellous links golf at Portrush and County Down, south past Seapoint, Baltray and Laytown, The Island, the Portmarnock twins, St. Anne's and Royal Dublin to The European Club, Arklow and Rosslare with these latter three blessed to enjoy a microclimate in a region named the sunny south east! Here there is less than half the golf-time (daylight hours) rainfall than there is on Ireland's exposed Atlantic coast and the area is protected from the Siberian easterlies by the British and European land masses.
There are two golf links in County Wicklow and four other courses touching the sea. There is a dandy Eddie Hackett designed links at Arklow, with rumpled fairways and lightning fast greens, and just ten miles north of there is the links of The European Club designed and owned by this writer who set about making it a major links to challenge any champion of today or tomorrow when playing from the championship tees but to give maximum pleasure to the cerebral club golfer who chooses to play from less testing tees and to play thinking golf.
Here there is less than half the rainfall than there is on Ireland's exposed Atlantic coast
The European Club at Brittas Bay tumbles through and across some of the highest dunesland in Briatin and Ireland, with sweeping views of the Irish Sea, and has held its position in the World's Top-100 Golf Courses since 1993, soon after opening, and it has attracted hundreds of great champions including Tiger Woods who holds the course record at 67, Rory McIlroy who won the Irish Amateur Championship in 2006 before embarking on a stellar professional career, and Padraig Harrington who won the Irish Professional title here in the weeks before he won his British Open titles of 2007 and 2008!
The county offers further coastal golf, not links, at Woodbrook which hosted many tournaments through the years, at Charlesland, at Wicklow where the back-nine designed by this writer in partnership with the late Tom Craddock is unsurpassed for beautiful scenery and Blainroe.
The choices inland are quite amazing also with four venues offering the opportunity to stay in a fine hotel on one or even two excellent courses. The Druids Glen Resort is particularly special to this writer as I designed the Druids Heath course and co-designed the Druids Glen course, which has hosted the Irish Open four times, with the late Tom Craddock. Obviously, I recommend a visit and a stay.
Just over the road at the stunning Powerscourt Estate there are two very highly regarded courses and a magnificent hotel. The East Course was designed by a hero of mine in the person of Walker Cup player and captain Peter McEvoy who is a genius in all matters golf and it has proven a great venue for the Irish Profesional and Irish Seniors' Open championships. The West Course was designed by David McLay Kidd, one of the legends of modern course design, and it is very popular.
Paul McGinley, he of Ryder Cup fame, designed his first course at Brooklodge Macreddin and the hotel is highly spoken-of by everyone who pays a visit. A true haven from the busy world.
Over the mountains in West Wicklow one comes on the Tulfarris Hotel and lakeside golf course designed by my pal Patrick Merrigan who, alas, died in January 2016 and left other fine courses such as The Old Head, Slieve Russell, Castle Dargan, Tullamore and his home club at Woodenbridge. A genius he was.
Mention of Woodenbridge draws attention to a lovely course set in a delightful valley along the Avoca River with steep, timber clad slopes beyond. Better still, just outside the gate one finds the ancient Woodenbridge Hotel in which golfer Billy O'Brien and family look after the comforts of the rejoicing or moaning golfer with even and generous hand.
Yes, whether looking for a severe test of one's golfing skills, or seeking to follow in the footsteps of the great players, or merely seeking a quiet escape from the world to enjoy rest, good food and lodgings and a tincture of enjoyable and stress free golf …. WICKLOW!
---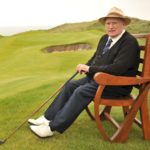 Pat Ruddy is a renowned Golf Course Designer.  He has designed some of our Ireland's top golf courses including Ballyliffin, Portsalon, Druids Glen and Rosapenna. He also designed and owns the European Golf Club located in Brittas Bay, Co Wicklow
---