Shop Local in Wicklow Town with Christmas Reward Card and Win Big!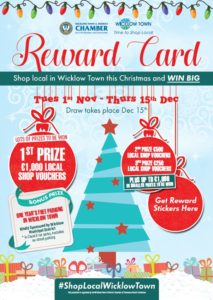 LUCKY SHOPPER TO WIN €1000 WORTH OF LOCAL SHOP VOUCHERS TO SPEND IN WICKLOW TOWN
OVER €3000 IN PRIZES TO BE WON THIS DECEMBER AS WELL AS A YEAR'S FREE PARKING
To say thank you to local shoppers and encourage people to shop in Wicklow Town over November and December, the Christmas Reward Card introduced last year, returns again for 2016 and runs from Tuesday 1st November to Thursday 15th December. Top prize is €1000 worth of local shop vouchers to spend in Wicklow Town or a year's free parking in the town.
Reward cards are available in participating shops in Wicklow Town – look out for the posters in shop windows and at the tills. For every €20 spent in any participating local shop, coffee shop, restaurant, hairdresser, barbers or beauty salon participants receive a loyalty stamp. Once 10 stamps (value €200) are collected, cards will be entered into a draw on December 15th to win the top prize of €1000 in local shop vouchers. Completed cards should be returned by December 15th to SV Delahunts, Eir, Connolly Menswear, Bridge Street Books or The Sports Room.
"Don't be shy about asking for a reward card and reward sticker every time you spend in Wicklow Town," says Joanna Hamilton of Bridge Street Books and Chairperson of the Retail Committee. "We are delighted to see people shopping in Wicklow Town and are even more delighted to fill up their reward cards in the hopes that they'll have a chance of winning something in return." Top prize is €1000 in local shop vouchers or a bonus prize of a year's free parking, kindly donated by Wicklow Municipal District. Second prize is €500 worth of vouchers, third prize is €250 worth of vouchers and there are fourth, fifth and sixth prizes too. "The more you shop in Wicklow Town, the more chances you have to enter," adds Joanna, "so keep that reward card handy throughout November and December and get your stickers!"
Last year, local shopper, Una Kernan, scooped the top prize of €1000 worth of vouchers to spend in Wicklow Town shops. Thrilled with her win, she said "I like to shop local. It is always a pleasure to do so. The shops in Wicklow are always friendly, provide great service and have a great selection of items, at competitive prices."
"This campaign was a great success in 2016," says Pascal Burke, President of The Wicklow Town Chamber of Commerce. "We envisage that it will be even bigger and better this year. On behalf of all the businesses in Wicklow Town, I would like to thank everyone who shops locally and supports local business all year round."
For those of you that prefer to give gift vouchers for Christmas, the Wicklow Town Gift Voucher is a great solution. Available in multiples of €10, €20 and €50 they can be redeemed in over 60 participating businesses in the town – look out for the Wicklow Chamber sticker on the doors – or see the Chamber website for more details, www.wicklowchamber.ie. You can claim your shop local loyalty stickers when you purchase these too. They are for sale in SV Delahunts, Eir, Connolly Menswear, Bridge Street Books and The Sports Room or contact Susanna at the Wicklow Chamber office on 0404 66433 for more information.