The Secret Behind Sammy-the-Seal
Interview with Alan Hegarty, from the Lighthouse Restaurant and the Fishman shop:
"Sammy arrived in 2012 when we opened the fish shop and he has actually trained me into feeding him 3 times a day at 9 o'clock, 1 o'clock and 4 o'clock.
At high tide he would jump out of the water on to the footpath.  Since we've opened the restaurant, that has become a regular occurrence and it does not have to be high water,  it can be 3 feet from the water's edge and he will still jump.  We approached the seal sanctuary and asked them to help us train sammy to stay in the water.  They gave us some tips and we now have a herding board that we lean up against Sammy and he realises that's a negative thing and he will stay in the water.  He is not getting up as much.
He is a wild animal and he is an aggressive animal as all grey seals are
The problem is that he could be injured.  Although it is really good for business I don't want it to be at that expense.  He could also snap at people.  People have the tendency to think he might be tamed , but he is not tamed.  He is a wild animal and he is an aggressive animal as all grey seals are.  So I have asked people not to feed him and to keep their distance.  At the end of the day he is a wild animal and we want him to remain that way.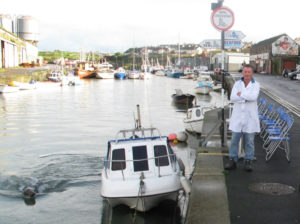 Sammy has done wonderful things for wicklow.  We have had a video online on Youtube that has had 20.000 hits, which mentions Wicklow in all parts of the world.  We find that we are getting tourists coming down that would normally pass us by.  They are getting off the ferry and coming down to see Sammy the seal: Italians, Americans, some from England and even some people from the midlands are coming to see him.  He is bit of an attraction and hopefully he will be wicklow's Fungi."
The Lighthouse Restaurant was opened in , and operates on the quays in Wicklow Town.