An idyllic, three-day running adventure through an Irish wonderland
By Brian Metzler – MotivRunning
The premise seemed interestingly arduous, but infinitely intriguing: fly to Ireland and run rolling trails of the Wicklow Way for three glorious days, finishing each run at a pub with a fresh and frothy pint of Guinness.
OK, twist my arm, I'm in! I don't have a trace of Irish blood in me, but on my previous trip to the Emerald Isle I became enchanted with a brief visit to the Wicklow Mountains south of Dublin. Running several sections of the 127K route that connects the remote village of Clonegal and the suburbs of Dublin was going to be an amazing odyssey.
That's exactly what my running buddy, Adam Chase, and I embarked upon in late April. We ran about 95K (roughly 59 miles) over three days, and it was everything it was cracked up to be and more. I've been fortunate to run on trails all over the world and yet running the Wicklow Way ranks up there with the greatest running adventures I've ever tackled.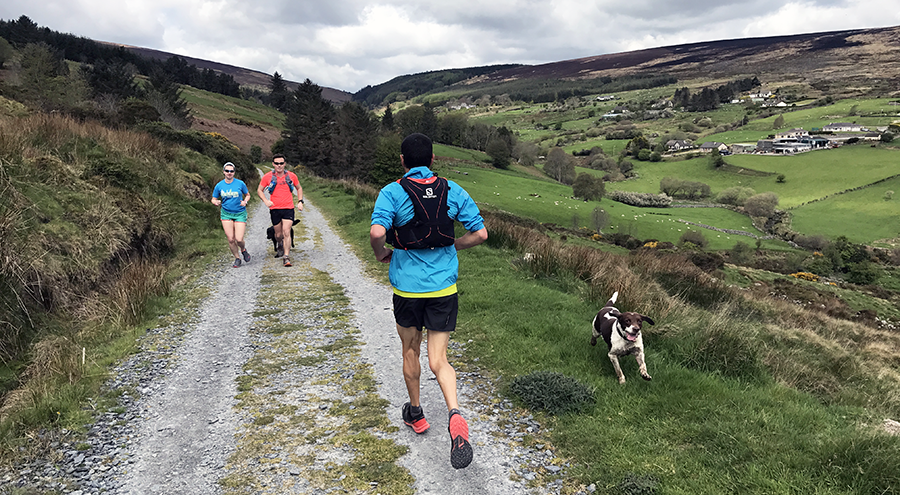 Running amid a sea of green in the heart of the Wicklow Way, about 20K south of Dublin. Photo: Brian Metzler
Upon landing in Dublin on Friday morning, we took a short bus ride to the city center and hopped on an express train that zipped through the southern edges of the city and then along the coast abutting the Irish Sea. Before long we were at the small village of Greystones.
After a short drive into the Wicklow hills, it was clear he knew what he was talking about. Like a scene from a postcard, everywhere we looked it was lush and green and full of life. We arrived at Glenmalure Lodge, a classic Irish inn situated in the longest glacial valley in all of Ireland. Inside the pub, we met local trail runners Stephen Brennen and Paul Daly, enjoyed a cup of coffee and a light lunch while looking over maps and discussing the 20K route we'd be running that afternoon. Hearing their enthusiasm for the route was exciting and made me forget that I only slept about an hour on the overseas flight.
After gearing up with hydration packs and wind shells, we were off. The climb out of Glenmalure was a steep forested route that eventually gave way to impressive views of the surrounding mountains and fertile valleys.
Because much of the terrain along the Wicklow Way is wet and boggy, long sections of wooden plank trail have been built to preserve the main hiking routes. The large, flat timbers are covered with industrial staples (and, in some places, a sturdy, metal mesh) for optimal traction. It was a bit odd to be running on this unique surface, and it took some getting used to, but we appreciated the secure footing.
Before long, we were atop Wicklow Mountains National Park at one of the higher points of the region, eventually towering over the long and narrow Glendalough Upper Lake that filled in the valley below. After taking in the views and snapping a few pictures, we began descending along the perimeter of the valley, eventually running down to the Glendalough Monastic Site, the well-preserved remains of a medieval village dating back to the sixth century. We were in awe as we toured the grounds, which included a still-intact, 30-meter stone tower, the remains of an ancient church and a cemetery with dozens of tilted and half-fallen headstones preserved in a way that Tim Burton might have orchestrated. The historic site was something to behold, for sure, especially because we arrived there on foot on routes dating back to ancient times.
Spending the afternoon sharing the passion of trail running with new friends was a lot of fun, but finishing it off with a cold pint of Guinness, a traditional meal of Irish stew, boxty (potato pancakes) and cabbage, and a bit of whiskey tasting at Wicklow Heather restaurant was a storybook ending to an amazing first day of this adventure. As Adam and I walked down a country lane on the way back to the Glendalough Hotel after dinner, we marveled over the richness of our first 12 hours in Ireland.