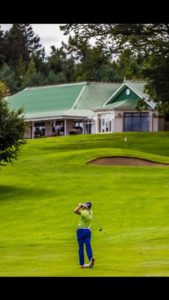 Rathsallagh Golf Club recently celebrated the relaunch of the exciting new course layout.  Rathsallagh Golf Club was originally opened in 1994 and sits in tree-lined parkland near Dunlavin, Co Wicklow.  Under new ownership since 2015, the magnificent course was originally designed by Peter McEvoy and the late, great Christy O'Connor Junior – and has now been brought back to its previous splendour after many months of hard work and investment.
The course has been reconfigured so that play begins and ends in front of the clubhouse and a new Par 3 hole has been built in the woods between the old 1st and 2nd holes bridging a small river. The old 10th hole (index 1) is now the opening hole – so the 'wow factor' is evident right from your very first shot. The re-routing occurs during the middle of your game and players will intertwine the 'old' back and front nines for a totally fresh experience.
Our new 11th hole will be the signature hole of the eagerly anticipated redesign. It is a par 3 measuring 127 metres from the Black Tee and 110 metres from the Ladies' Tee. When golfers finish on the 18th hole it is just a few steps away from the verandah of the stunning clubhouse.
"Since re-opening in June 2016, the Club has gone from strength to strength," says Mick O'Shea, PGA Professional at Rathsallagh. "Staff numbers have increased by over 50 per cent and there has been steady growth in membership, golf societies, large groups and corporate events. We are also delighted to be hosting the Top Golfer play-offs in the coming days – an event where only the highest standards are accepted."
Rathsallagh is a course built to championship standard, routed over rolling terrain and with a number of burns, ditches and ponds that bring water into play on several holes. Hundreds of mature trees flank the fairways, the bunkers are always challenging – often described as some of the best in Ireland, both in terms of construction and intelligent placement – and the slick greens were built to the highest USGA specification. Over the years it has challenged and delighted golfers of all abilities – and now a fresh challenge lies in store.
For further information go to www.rathsallaghgolf.com