Wicklow Tourism is inviting anyone with a flair for art or design to take part in an exciting competition to design a Stamp for Glendalough.   The "Glendalough Stamp" is the first step in a new initiative by Wicklow Tourism, aimed at developing a series of stamps that will be placed in towns and villages across the County.   Very much like stamps offered along the Camino in Spain, visitors coming to Glendalough will have an opportunity to 'mark' their visit and get the Glendalough stamp, from one of the local businesses.
Completed designs should be submitted by email at wicklowtourism@gmail.com before Friday 3rd May 2019.  A panel will select the top designs and the overall winning design will receive €100 One for All voucher, along with the satisfaction of having their design located in Glendalough for millions of visitors to enjoy.  Please refer to the full details below before submitting your design.
Good Luck!
Specification for Stamp                                   
Stamps can be designed in any of the shapes outlined below.
The finished stamp will be produced in a solid colour (red, black or blue) so please don't incorporate multiple colours into your design as it's not possible to translate them onto the rubber stamps.
Sizes below are for illustration purposes only – please ensure you have measured your preferred shape accurately.
Possible Shapes: Circular, Triangular, Rectangle, Oval or Square
Stamp Colours: Solid colour in Black, Blue or Red 
Maximum Stamp Size (Diameter):


Square, Triangle or Rectangle: 43 mm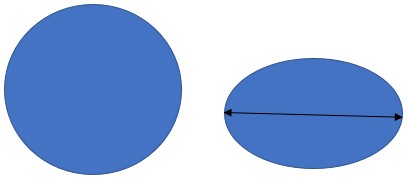 Circle or Oval: 50mm
 Design Guidelines:
The stamp should be designed within the shapes mentioned above and bearing in mind that it will be scaled down to the approximate sizes outlined above.
The stamp will be in one solid colour – black, blue or red, with white background.
Stamps should be designed to feature an iconic landmark, story or moment in history from the past 5,000 years, which has an intrinsic link or special connection to the close surrounding area. Something of interest to visitors, not necessarily the biggest and most obvious.
Stamps should include the name the town or village in either English or Irish.
Finished stamps will be placed in visitor attractions, pubs, cafes, hotels etc. in the locations.
Prize:
€100 One for All Voucher 
How to Submit your Design:
Finished design should be posted to "Glendalough Stamp Entry", Wicklow County Tourism, Town Hall, Market Square, Wicklow Town by Friday 3rd
OR a scanned version in PDF or JPG format can be emailed with the subject "Glendalough Stamp Entry", however if your entry is selected we may need to ask for the original, so keep it safe!
Terms & Conditions:
Depending on the number of entries, we may share a selection of designs on social media and ask the public to vote for their favourite. The Panel reserves the right to select the overall winner.
Some minor changes may be need to me made to the final design in order to make it suitable for application to the rubber stamp.
If it is deemed that no suitable design has been submitted, no winner will be picked.
Only designs that adhere to the specifications set out below can be considered.