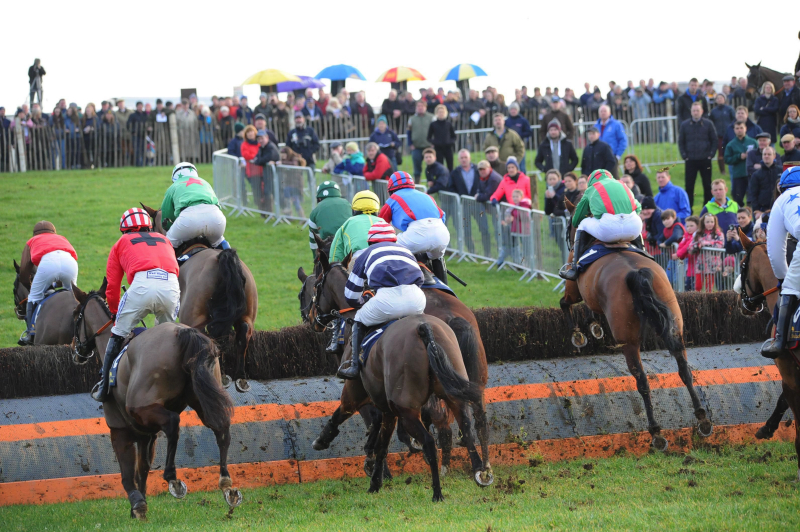 Tinahely will host two Point to Point races in January & February.  The first race is on Sunday the 8th of January and the second on Sunday the 26th of February.
Point-to-Point racing has a long and rich history at the scenic location of Fairwood Park, Tinahely, since 1989. Fairwood Park also plays host to the Tinahely Agricultural Show each summer which is one of Ireland's longest running agricultural show.
Previous track winners to have won at Tinahely include former Grade One winner Fundamentalist and Cheltenham Gold Cup runner-up On His Own.
Tinahely is situated in the heart of the Wicklow countryside, the garden of Ireland. Located just an hour and half from the bustle of Dublin city, Tinahely is a pretty village in south west Wicklow that offers a variety of walking opportunities and a gateway to the beautiful Irish landscape.
Point-to-points are horse racing in its purist form and you will often hear it described as the grassroots of horse racing in Ireland.
This is because unlike the racing you may see on television which takes place at permanent racecourses like Leopardstown, point-to-point racing takes place at what are effectively pop-up courses right around the country.
Tinahely point-to-point is the perfect day out for all the family in the Irish countryside and where you will get to witness the future stars of the racing industry make their introduction into competitive racing.
Our venue offers spectacular viewing facilities for race-goers. Spectators can get right up close to the horses, watch them being saddled before being paraded in the ring.
Unlike most racecourses, spectators can stand beside one of the fences and feel the power of the horses as they jump a fence in full flight or get close to the winning post for a bird eye view of the thrilling action.
The track is also the perfect location for a picnic from the boot of your car where you can enjoy the action whilst entertaining friends and family!
More info and booking at https://www.p2p.ie/index.php