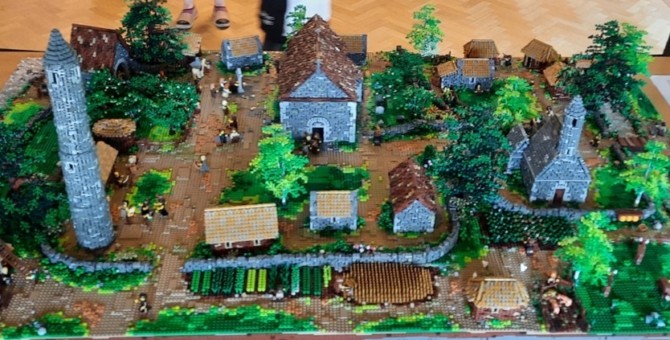 A variety of events will be held across County Wicklow as part of National Heritage Week 2023 which takes place from Saturday 12th August to Sunday 20th August.
 Amongst the events are:
Biodiversity walks and historical house tours at Altidore Castle
Two days of Wicklow Crafts demonstrations at Enniskerry Schoolhouse for Art
Hands-on archaeological 'Big Digs' for kids at Tinahely and Glendalough
Meet Our Native Trees walk and talk at Castleruddery Organic Farm
Ballyknockan Village walking tour and stone cutting demonstration
Wicklow Head Lighthouse open day
Basket making demonstration and Lego workshops at Glendalough
Talks on the 'Treasures of Nuns Cross Church'
The Archives at Killruddery and
Guided walking tours at Bray Head, St Peters Graveyard, Kilcoole, and Glen of The Downs
Anybody interested in hosting an event or a digital project can register it up to the beginning of National Heritage Week on August 12th and even during the week itself right up until the final day on Sunday August 20th. They can do so via the Organisers' Portal on www.heritageweek.ie.
Over 1,000 FREE events and projects have already been registered with that figure expected to reach close to 2,000 before the festivities kick off. Galleries, gardens, historic houses, barnyards and studios will play host to events covering everything from architecture to archaeology, film to foraging, philosophy to genealogy and music to storytelling. Walks, talks and workshops will satisfy the heritage curious who can search for events taking place in their area either by county or by topic.
The theme for National Heritage Week this year is 'Living Heritage' which is defined as the practices, knowledge and skills that have been passed from one generation to the next and are still in use today. As such, many events and projects will focus on the keeping alive of these crafts and skills, and this year's launch took place at the workshop of Tom McDonnell and James Collins, two of the last remaining men practicing the dying trade of Traveller tinsmithing.
For more visit www.heritageweek.ie